20
ways
to
entertain
the
kids
these
holidays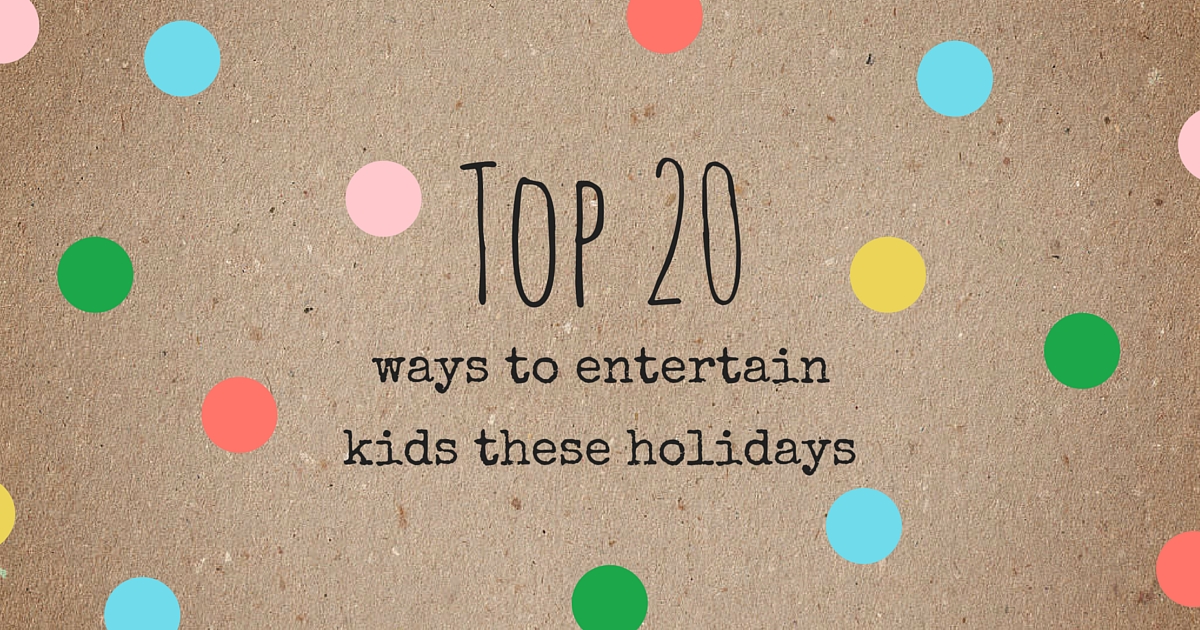 TOP 20 WAYS TO ENTERTAIN THE KIDS THESE HOLIDAYS!
School holidays are almost here and Grasshopper Soccer has a special present for you. A list of 20 things kids can do on their own, or with a parent or caregiver, that should help you survive (and even have some fun) until the holidays are over.
Bake some biscuits together.
Keep a few batches for yourself, deliver the rest as gifts. (Yes, we realise that you may end up cleaning flour off the ceiling for hours, but the kids WILL love it!)
Host a holiday-themed party/sleepover.
Have a few of your kids' friends over for a fun afternoon (or night if you want to make it a sleepover). Provide snacks or have them help you make homemade pizza – kids love being involved in cooking – see who can make the best Pizza Face!)
Create a treasure hunt.
Amazing fun that will keep kids busy for hours.
Go outside and play.
Especially in today's technology driven world, we forget about the simplicity of encouraging outdoor play. Make sure they're well bundled if you're fortunate enough to live in a cold winter environment and let them enjoy the fresh air.
Have kids help prepare holiday meals.
Kids love to explore in the kitchen. Yes, it will definitely take longer than if you did it yourself and yes, your kitchen will be much messier but the skills that you teach are much more important than spilled flour.
Check to see if your local cinema offers special holiday prices.
Most cinemas will offer discounted tickets during the local school break as a way of encouraging the movie-going experience, so check it out!
Read a chapter book out loud.
This is a lovely way of spending time together. Even teenagers like snuggling up on the couch with a cup of hot chocolate and being read to.
Do something nice for someone.
Get the kids to rake the neighbours' lawn, walk their dog, make dinner for a friend, or offer to wrap gifts for someone.
Do craft activities. The possibilities are endless and most require very few supplies.
Learn something new together. Learn to juggle, play the harmonica, knit, etc., or take a class in Cooking, yoga, ice skating, music, etc.
Learn to use Skype. And then teach the grandparents so you can keep in touch even after the holidays are over.
Build a fort. Let the kids loose in the living room with pillow and blankets. Turn the fort into an overnight sleep out spot.
See a live performance together. Live entertainment abounds this time of year and many venues offer special family or matinee pricing.
Put on your own dramatic performance. Write a script, sew costumes or just do a little improvisation. The rules are simple: one child is in charge and gets to direct. The others must go along with it. You will need to have a day like this for each child. The one in charge gets to direct, assign roles and costumes. You get to watch the finished project!
Play (or learn) card games. Amazing how much fun you can have with a single pack of playing cards. Little ones can learn crazy eights or Old Maid. Teach the older kids rummy or poker, or discover new games to master.
Make a time capsule. Time capsules are a fun way to record the present and remember the past. They are easy to make, and your kids will love making predictions about their lives!
Flashlight tag. Give everyone a flashlight and turn out the lights! If you get 'tagged' you're out or you're frozen.
Plan for daily quiet time.
At the library, check out several story books or a novel to read together over the holidays. Try audio books too – they are a great way of absorbing books!
 REMEMBER: talking about books is almost as important as reading them.
Play board games.
Put your family to the test with the ultimate board-game challenge. Set up a championship and spend the day competing for prizes.
SIGN UP TO A GRASSHOPPER SOCCER HOLIDAY PROGRAM!!!
The most important item on this list!!
Go to Grasshoppersoocer.com.au for more information!